We are proud to call the Western Kentucky region home; we have offices in Paducah and Mayfield. Our team is dedicated to serving the communities where we live, work and play. Williams, Williams & Lentz supports many organizations throughout our area including many of the area churches where our associates and their families attend.  We also support area nonprofit and charitable organizations not only with financial gifts but also through our service as board members or volunteers.  We encourage our associates to be involved in our communities!
• Merryman House
• United Way
• Paducah Young Professionals
• Leadership Paducah
• St. Jude Dream Home Giveaway
• Rotary Club
• Mercy Health (Lourdes)
• Paducah Chamber of Commerce
• West Kentucky Regional Chamber
• Country Club of Paducah
• Family Service Society
• Charity League
• Police Foundation of Paducah-McCracken County
• Oscar Cross Boys & Girls Club
• Baptist Health Paducah
• Community Kitchen
• Yeiser Art Center
• Friends of the Parks Paducah
• BBQ on the River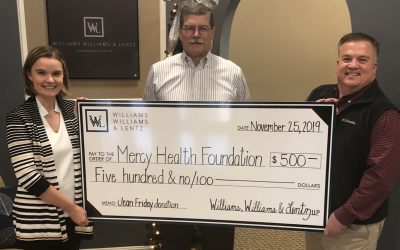 WWL CPA Presents Donation to Mercy Health Foundation Every Friday, WWL CPA staff members are given the opportunity to wear jeans to work in exchange for a financial donation to our organization's charity fund. Every six months we select a local charity to donate those...
read more
CONTACT US
Williams Williams & Lentz, LLP
601 Jefferson St. Paducah, KY 42001 Ph: 270.443.3643 Fx: 270.444.0652 Em: info@wwlcpa.com
1104 Paris Rd. Ste 100 Mayfield, KY 42066 Ph: 270.247.2124 Em: info@wwlcpa.com
HOURS:
M-Fri: 8 a.m. - 5 p.m.
Sat.: 8 a.m. - 12  p.m.
Not Advice. The information provided on this website, including without limitation all newsletters, papers, articles, and other information downloaded or accessed by You, is for general guidance and to offer You general information on particular subjects of interest. It is not intended to constitute legal, accounting, tax, marketing, or other professional advice or services.